Bacewicz: Complete Violin Sonatas / Muso / Release Date : 11th Oct 2019
Born in Lódz (Poland) Grazyna Bacewicz is the most eminent inheritor of the 19th century violinist-composers in the lineage of her compatriot and predecessor Henryk Wieniawski. She was one of the most important composers of the mid-20th century, a remarkable concert artiste who left a catalogue of over 200 works, including five Sonatas and a Partita for violin and piano as well as two solo violin sonatas that feature in this boxset commemorating the 50th anniversary of her death.
Her style is close to the French neoclassicism of the interwar period, though she increases its vitality and clarity while infusing it with a blend of delicacy and highly individual rigor. All her works reveal rhythmic sophistication and a characteristic approach to metre, a juxtaposition of exuberance and lyricism. In short, music that is vivacious, sensitive and mischievous; the composer excelled in her treatment of a stringed instrument while in parallel drawing out the lines of a piano part bristling with life.
The French violinist Annabelle Berthomé-Reynolds loves rare, powerful scores. She has imbued herself with this music and with her piano partner the Bulgarian pianist Ivan Donchev, they both fill this music with vitality and poetry to make this boxset a real discovery and already a classic interpretation.
Artists
Annabelle Berthome-Reynolds, violin
Ivan Donchev, piano

DISCOVER  iTunes, Spotify, QoBuz, Deezer, AllMusic, ArkivMusic
BUY Apple Music, Muso, Amazon, Naxos, PrestoClassical, Fnac
PREMIUM STREAMING (Hi-Res/ Lossless 24bit FLAC) : QoBuz, Primephonic, Deezer, PrestoClassical
Double Album, 2 CDs
Track Listing
CD1
Bacewicz: Sonata for Violin and Piano No. 5 # 1951
[1] I. Moderato – Allegro
[2] II. Nokturn: Andante dolcissimo
[3] III. Finale: Allegro inquietamente
Bacewicz: Sonata for Violin and Piano No. 3 # 1948
[4] I. Allegro moderato
[5] II. Adagio
[6] III. Scherzo: Vivo
[7] IV. Finale: Andante
Bacewicz: Sonata for Violin and Piano No. 1 # 1945
« Sonata da Camera »
[8] I. Largo
[9] II. Allegro
[10] III. Tempo di minuetto
[11] IV. Andante sostenuto
[12] V. Gigue: Molto allegro
Bacewicz: Sonata for Solo Violin No. 2 # 1958
[13] I. Adagio – Allegro
[14] II. Adagio
[15] III. Presto
 Total Time CD1: 54'04

CD2
Bacewicz: Partita for Violin and Piano # 1955
[1] I. Preludiem – Grave
[2] II. Toccata: Vivace
[3] III. Intermezzo: Andante melancolico
[4] IV. Rondo: Presto
Bacewicz: Sonata for Violin and Piano No. 2 # 1946
[5] I. Allegro
[6] II. Andante
[7] III. Scherzo: Vivace
[8] IV. Finale: Allegro molto
Bacewicz: Sonata for Solo Violin No. 1 # 1941
[9] I. Allegro
[10] II. Adagio
[11] III. […]
[12] IV. Variazioni
Bacewicz: Sonata for Violin and Piano No. 4 # 1949
[13] I. Moderato – Allegro non troppo
[14] II. Andante ma non troppo
[15] III. Scherzo: Molto vivo
[16] IV. Finale: Con passione
 Total Time CD2: 71'15
Ives: Violin and Piano Sonatas Nos. 1 – 4 / White / 16th Feb 2016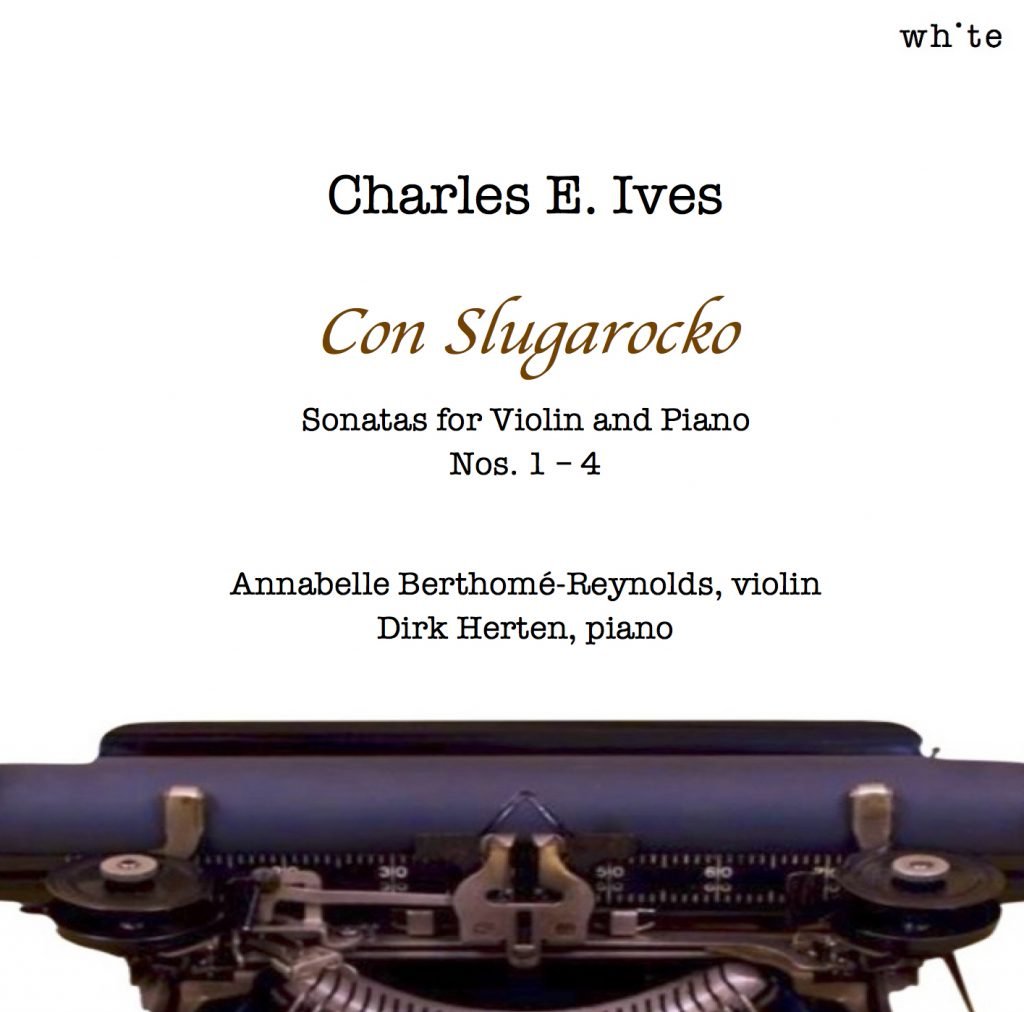 Charles Ives has pursued what is perhaps one of the most extraordinary and paradoxical careers in the history of American music. Businessman at day and composer at night, Ives sought after a highly personalised expression through the most innovative and radical technical means possible.
His fascination for bi-tonal forms, polyrhythms, popular music and military marches was nurtured by his father's fanfares, whom Ives later recognised as his primary creative influence.
Rarely played, the works of Ives are captivating – as much as his expertise of the form is huge – and even more endearing that they comprise unexpected moments of delicious, childlike naivete.
Artists
Annabelle Berthome-Reynolds, violin
Dirk Herten, piano
DISCOVER iTunes, Spotify, Deezer, AllMusic
BUY Apple Music, Amazon, Bol
Track Listing
Ives: Sonata for Violin and Piano No. 1 # 1914
[1] I. Andante – Allegro vivace
[2] II. Largo cantabile
[3] III. Allegro
Ives: Sonata for Violin and Piano No. 2 # 1917, rev. 1919
[4] I. Autumn : Adagio maestoso – Allegro moderato
[5] II. In the Barn : Presto – Allegro moderato
[6] III. The Revival : Largo – Allegretto
Ives: Sonata for Violin and Piano No. 3 # 1914
[7] I. Verse I (Adagio) – Verse II (Andante) – Verse III (Allegretto) – Refrain (Adagio)
[8] II. Allegro
[9] III. Adagio (Cantabile) – Andante con spirito
Ives: Sonata for Violin and Piano No. 4 # 1916
« Children's Day at the Camp Meeting »
[10] I. Allegro
[11] II. Largo – Allegro (Con slugarocko)
[12] III. Allegro