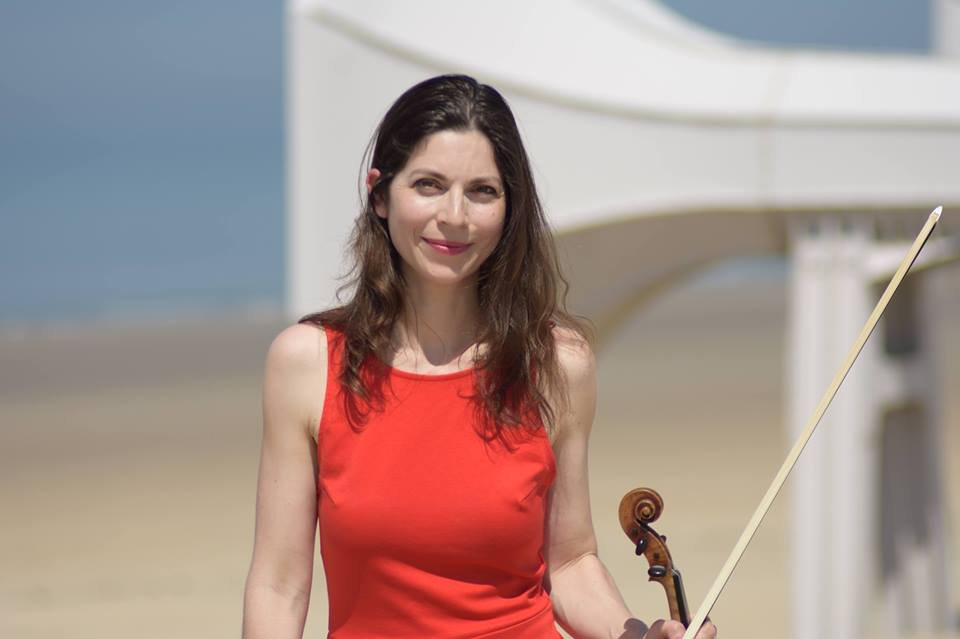 Violinist Annabelle Berthomé-Reynolds is a highly versatile phenomenon, surfing with stunning ease between deeply moving concerts, international masterclasses and sold-out teacher seminars on brain strategies.
An alumna of both the Royal Academy of Music in London and the University of Cambridge, she just signed with MUSO to release in exclusivity the first complete recording of Bacewicz sonatas, in collaboration with the Penderecki European Music Centre and pianist Ivan Donchev (2019).
After her studies in the UK – music performance at the Royal Academy of Music in London, then pedagogy at the University of Cambridge, French violinist Annabelle Berthomé-Reynolds has performed in numerous festivals, both in France and abroad: Folle Journée, Nuit Musicale de Seneffe, St John's Smith Square… Her playing is characterised by a delicate sensitivity, which is somewhat reminiscent of her first mentor's, Lydia Mordkovitch, and a solid technique, perhaps one of the most beautiful legacies of her professor Hu Kun, Yehudi Menuhin's longtime student.
Annabelle Berthomé-Reynolds likes to bring to light forgotten works, namely the ones of exceptional women like Ethel Barns, Grazyna Bacewicz and Mary Howe, for whom she has ensured some works are re-printed. A keen chamber music player, she can be heard in a contemporary repertoire within the Longbow Ensemble led by Peter Sheppard-Skaerved under the labels Naxos, Toccata Classics or even Metier Records.
In parallel to her concerts, Annabelle Berthomé-Reynolds is also a outstanding violin professor (Licentiate of the Royal Academy of Music, 2004 and Laureate of the French National Teaching Competition, 2013). She is a pedagogy consultant for the Belgian Council for Education (CECP) and gives regular training courses for music teachers and directors throughout Belgium. A self-regulated learning specialist, she is also a learning profile test practitioner for all publics including non-musicians and analyses cognitive neuro-dominance – the use and behaviour of the brain's hemispheres – for students and business professionals. In 2016, she was appointed as Professor of Violin and Chamber Music at the Departmental Conservatoire of Music in Roubaix, France.
In 2016, she launched her first personal album, Con Slugarocko, thus paying a special tribute to Charles Ives and his amazing 4 Sonatas for Violin and Piano (White label, February 2016). Critically acclaimed worldwide, the music is regularly broadcast on the radio in France, Belgium (RTBF, Musiq3), the Netherlands, the USA (New York: WKCR 89,9 FM), Brazil and Australia.
Forthcoming engagements include the recording of the Complete Sonatas for Violin & Piano by Polish woman composer Grazyna Bacewicz, with pianist Ivan Donchev, in a double album for Muso label. In the next season, she plans in particular to record Philip Glass' 2nd Violin Concerto. Her collaborations with contemporary composers are considerable : Nicolas Bacri, David Chaillou, Nimrod Borenstein, Karl Fiorini, John Hopkins to name but a few. Numerous are those who are writing for Annabelle Berthomé-Reynolds given how her capacity to immerse herself in the musical universe of all fascinates and inspires (solos, sonatas, concertos…). 
Annabelle Berthomé-Reynolds currently lives in Brussels where she enjoys a busy cultural life, long-distance running, 5 Rythms dance and her young family. 
www.annabelle-berthome-reynolds.com
Music available on Apple Music, Amazon, Spotify, Deezer and Fnac (Belgium and Netherlands).